Our Pastor Gary Johnson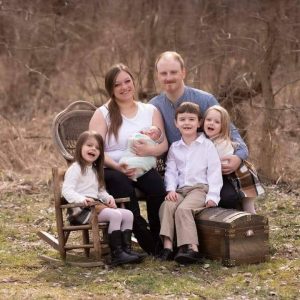 The Westport Baptist Church welcomes Gary Johnson as their new pastor. Gary is married to Laura and she serves alongside him. The couple has four children: Jeremiah, Emmaleigha "Emmy," Avery, and a new baby girl, Adalynn.
They are from Hagerstown, Indiana. Gary has a (Bachelor of Arts) B.A. in Divinity and a B. A. in Ministry. Gary is a passionate Christian for the Lord and His work. He is a mission-driven Pastor who seeks to promote God-centered worship, biblically-based preaching, and to make known an ever-living Savior to the world.
Throughout his Christian journey, he has shared the Gospel with others through social media outlets, co-workers, and strangers. He has gone as far as reaching lost souls in other countries through outlets such as his online messages, podcasts, etc. He longs to always follow the will of God and continue bringing others to Him.
Laura is an elementary teacher who teaches Chinese children online. Her family and Gary are very musical, playing instruments and singing. Laura and her family have their own musical group. Pastor Gary and his family plan to move to our area as soon as they can find a home.
For God so loved the world that He gave His only begotten Son, that whosoever believes in Him should not perish, but have everlasting life.
John 3:16